Un fil émaillé en aluminium haute performance
Informations de base
Modèle: 130/155/180/200/220
Description du produit
Modèle NO .: 130/155/180/200/220 Certification: ISO9001, UL, RoHS Application: Underground Taille: 0.25mm ~ 2.50mm: Hermal Classe: 130/155/180/200/220 Type de conducteur: Solid Material Forme: Round Wire Gamme d'application: Uew / Pew / Eiw / Aiw Spécifications: Taille: 0.25mm ~ 2.50mm Niveau d'isolation: C Marque: Yongdong Matériau du conducteur: Aluminium Type: Isolé Matériau de la gaine: PVC Matériau d'isolation: Uew / Pew / Aiw Marque déposée: Yongdong Origine: Shandong, Chine Emballage extérieur: palette en bois avec bande d'acier ou selon les exigences particulières des clients
1. Détails du produit
Product Name

Temperature Index

Standard

Product Characteristics

 
 


Application Field


 

Polyester Enamelled wire

155/180 °C

GB IEC NEMA JIS

The wire provides excellent flexibility,adhesion and anti-scrape resistance ,etd

 


Suitable for magnetic coils,all kinds of motor winding coils,etc.


 

polyamide




enamelled wire

130/155/180 °C

GB IEC NEMA JIS

This wire provides good heat resistance,solderability,dyeing,excellent pinhole resistance,high-frequency resistance,etc.

 


Suitable for electric components,instrumentation winding,transformers,telecommunication equipments,motors,etc.


 
 

Polyester(imide)/polyamide-imide enamelled wire

200/220/240 °C

GB IEC NEMA JIS

This product provides good heat resistance,high cut through,solvent resistance,radiation resistance,cold resistance,freon resistance.

 


Suitable for oil-immersed transformers,dry-type transformers,high-temperature transformers,refrigeration compressor motors,sealed motor,explosion-proof motors,electric tools motors,magnetic coils,and high-power motors,etc.


 
Fil en aluminium émaillé
Caractéristiques
Name

enamelled copper wire

Type

QZXYL-2/180

Diameter

2.40mm

Standard

IEC60317-15

Test Item

Unit

Technical Requirement

Test Result

Appearance


 

bright and clean, Uniform color,

Ok

Overall Diameter

mm

<2.518

2.483

Conductor Diameter

mm

±0.024

2.402

Thickness of insulation film

mm

>0.079

0.081

resistance

Ω/m

<0.006354

0.006069

Elongation


 

>15%

27%

winding test


 

no cracking

Ok

Tensile Test


 

15% No cracking

no cracking

Peel twist


 

insulation film Without losing adhesion

Ok

Jerk test


 

insulation film Without losing adhesion

Ok

Resistance to heat shock

C

200C insulation film no cracking

Tensing 15% half an hour, no cracking

Resistance to solvent


 

Standard solvent "H" Pencil

2H is ok

Breakdown Voltage

KV

5.0KV

14.8,14.8,14.9,14.2,14.8

package


 

Meet the export standards

Ok

Quality Control Result


 

Ok
Détails du produit:
Enameled Type

Polyester

Modified Polyester

polyester-imide

Polyamide-imide

polyester-imide /Polyamide-




imide

Insulation Type

PEW/130

PEW(G)/155

EIW/180

EI/AIW/200

EIW(EI/AIW)220

Thermal class

130, CLASS B

155, CLASS F

180, CLASS H

200, CLASS C

220, CLASS N

Conductor

Aluminum

Aluminum

Aluminum

Aluminum

Aluminum

Size(mm) supply

0.11-8.0

0.11-8.0

0.11-8.0

0.11-8.0

0.11-8.0

Enamel thickness

Grade(0,1,2,3)

Grade(0,1,2,3)

Grade(0,1,2,3)

Grade(0,1,2,3)

Grade(0,1,2,3)

Standard

IEC60317-0-2




IEC60317-29




MW36-A

IEC60317-0-2




IEC60317-29MW36-A

IEC60317-0-2




IEC60317-29




MW36-A

IEC60317-0-2




IEC60317-29




MW36-A

IEC60317-0-2




IEC60317-29




MW36-A
Détails du produit: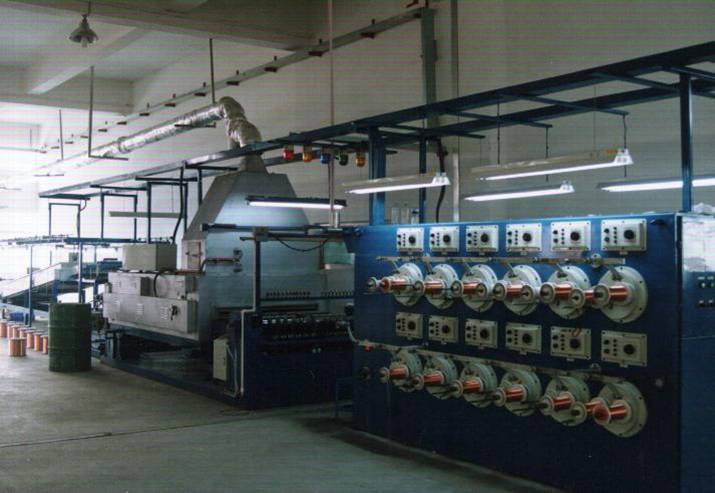 Enameled Type

Polyester

Modified Polyester

polyester-imide

Polyamide-imide

polyester-imide /Polyamide-imide

Insulation Type

PEW/130

PEW(G)/155

EIW/180

EI/AIW/200

EIW(EI/AIW)220

Thermal class

130, CLASS B

155, CLASS F

180, CLASS H

200, CLASS C

220, CLASS N

Conductor

Cu

Cu

Cu

Cu

Cu

Size(mm) supply

0.02-8.00

0.02-8.00

0.02-8.00

0.02-8.00

0.02-8.00

Enamel thickness

Grade(0,1,2,3)

Grade(0,1,2,3)

Grade(0,1,2,3)

Grade(0,1,2,3)

Grade(0,1,2,3)

Standard

IEC60317-0-2




IEC60317-29




MW36-A




SZ Enterprise standard




SJ/T11223-2000

IEC60317-0-2




IEC60317-29MW36-A




SZ Enterprise standard




SJ/T11223-2000

IEC60317-0-2




IEC60317-29




MW36-A




SZ Enterprise standard




SJ/T11223-2000

IEC60317-0-2




IEC60317-29




MW36-A




SZ Enterprise standard




SJ/T11223-2000

IEC60317-0-2




IEC60317-29




MW36-A




SZ Enterprise standard




SJ/T11223-2000
Description du produit
Model

                   Product Name

Thermal Index

QZ-1/130

Class 130 normal insulation thickness of




polyester enameled aluminum round wire

130

QZ-2/130

Class 130 heavy insulation thickness




film polyester enameled aluminum round wire

130

QZ-1/155

Class 155 thin insulation thickness of




modified polyester enameled aluminium round wire

155

QZ-2/155

Class 155 heavy insulation thickness of modified




polyester enameled aluminium round wire

155

QZY-1/180

Class 180 thin insulation thickness of 




polyester-imide aluminium round wire

180

QZY-2/180

Class 180 heavy insulation thickness




of  polyester-imide aluminium round wire

180

Q(ZY/XY)-1/200

Class 200 thin insulation thickness




of Polyester-imine/polyamide-imide




compound enameled aluminium round wire

200

Q(ZY/XY)-2/200

Class 200 heavy insulation thickness




of Polyester-imine/polyamide-imide




compound enameled aluminium round wire

200
& Livraison
Reel/spool

PT-4

PT-10

PT-15

PT-25

PT-60

Carton

4 rolls in one carton

2 rolls in one carton

1 roll or 2 rolls in one carton

1 roll or 2 rolls in one carton

1 roll in




one carton  

Pallet
Selon la taille du carton, et jusqu'à la demande du client
Groupes de Produits : Fil d'aluminium émaillé